The 2021 Subaru Love Promise Customer and Community Commitment Award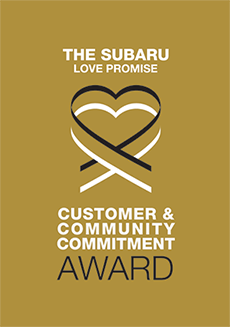 We've been nationally recognized for our dedication to our customers, our community, and the Subaru Love Promise.
We're honored to receive the 2021 Subaru Love Promise Customer and Community Commitment Award. This award nationally recognizes elite Subaru retailers who provide an exceptional customer experience at every interaction with Subaru. These retailers have also demonstrated an outstanding commitment to supporting passions and causes in their local communities in important areas such as the environment, community, health, education, and pets.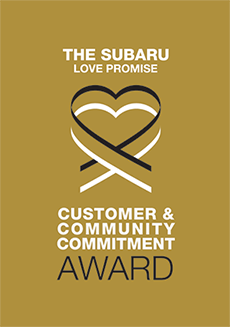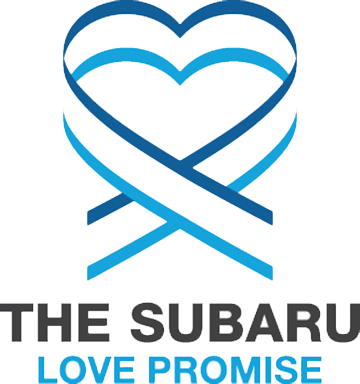 What is the Subaru Love Promise?
Subaru and our retailers believe in making the world a better place and the Subaru Love Promise is our vision of respecting all people. This is our commitment to show love and respect to our customers and to work to make a positive impact in the world.
How is #1 Cochran Subaru dedicated locally to the Love Promise?
At #1 Cochran, serving the greater good is deeply rooted in our DNA. From our history of supporting local charities and nonprofits to our dedication to volunteerism, we believe that giving back is the ultimate way to move our world forward.
Butler County Humane Society, Animal Protectors of Allegheny Valley
Braddock/North Braddock Revitalization
Junior Achievement of W. PA, Center Township Elementary, A.E. O'Block Jr. High School
Family House, Make A Wish Foundation, Ben Roethlisberger Foundation
Children's Hospital of Pittsburgh Foundation, Butler Health System, Leukemia & Lymphoma SOciety
Love Promise Stories from #1 Cochran Subaru
Subaru and #1 Cochran Subaru believe in making a positive impact on the communities in which we live and work. We uphold that belief through our Love Promise Community Commitment. Every month, we select inspiring stories from customers and partners from around our area who strive to support our collective commitment and feature them here
Weekend Volunteers Deliver Food to our Neighbors - Michelle M
On the behalf of Greater Pittsburgh Community Food Bank and the people we serve, thank you for your service at our drive-up food distribution held on May 15, 2021. Your support of the Food Bank's mission allows us to provide access to healthy, nutritious food to families and individuals across Southwestern Pennsylvania. Drive-up distributions occur all over the greater Pittsburgh area and provide each family with 30 to 50 pounds of food. We are so appreciative for the volunteers from Subaru who helped load cars with boxes of food. Every car served represented one or more families from the McKeesport area who may rely on this monthly distribution for food support. Subaru helped serve 165 cars, who picked up 360 shares of food. In total, volunteers distributed 11,000 pounds of food. It is thanks to your efforts that we are able to continue to meet the need of individuals in McKeesport and surrounding areas who need food assistance. Again, thank you so much for your willingness to volunteer. It is because of people like you that we are closer to achieving our mission of a hunger-free community.
---
Continued Support from #1 Cochran Subaru - Julianne H
Family House is honored to have been chosen by #1 Cochran Subaru to participate in the Share the Love Campaign. With the continued support of #1 Cochran Subaru and Subaru of America, Family House has been able to remain open during the pandemic and meet the need for our unique services. Providing a safe, comfortable, convenient, and affordable place to stay for those who must travel to Pittsburgh for medical care because their treatment or procedure could not be delayed will always remain our number one priority. A recent guest shared the following note about her experience: "Coming (to Pittsburgh) from a small town, I was out of my league. Everyone here was kind, caring and helpful. It made a hard situation tolerable! I felt I got blessed by finding Family House. People went out of their way to help us!" Thanks once again to #1 Cochran Subaru and Subaru of America for your generous gift and steadfast support of Family House's mission.
---
Pandemic Donations from #1 Cochran Subaru - Jennifer Z
Greater Pittsburgh Community Food Bank (the Food Bank) is honored to have been chosen by #1 Cochran Subaru to participate in the Share the Love Campaign. Due to the pandemic, our region as seen a 42 percent increase in food insecurity since 2018. In Allegheny County, that equates to 15 percent of residents. Through the Share the Love Campaign and the Rob and Christina Cochran Foundation, #1 Cochran Subaru's contribution to the community helped provide one million meals to neighbors facing hunger. As Dale waits in his vehicle at a drive-up distribution for food assistance, he shares, "We've been out of work since the beginning of March. My girlfriend has been supporting me now, so I mean, all my bills are getting paid. My bank account is down to zero, just about. I got my (stimulus) check, but that took care of the rent and everything else. It's just tough, but we're getting by."
---
Subaru Loves Animal Protectors - Danny R
#1 Cochran Subaru has been a consistent and generous supporter of Animal Protectors of Allegheny Valley and our programs to help the people and pets in our community. Their financial and material donations have helped us improve the lives of our shelter pets, and provide support to families that may be struggling to care for pets at home. Animal Protectors of Allegheny Valley takes pride in our commitment to serving the needs of our community. It is immeasurably helpful to have the support of partners like #1 Cochran Subaru that share in our vision of an Alle-Kiski Valley that cares for its pets and the people with whom they live.
---
Family House and the Share the Love Campaign - Beth B
Family House is honored to have been chosen by #1 Cochran Subaru to participate in the Share the Love Campaign. As a result of #1 Cochran Subaru and Subaru of America's support, Family House continues to meet the demand for our unique services, particularly for those patients and caregivers who still must travel to Pittsburgh for medical care, even during the pandemic, because their treatment or procedure could not be delayed. One guest who recently stayed at Family House shared the following note about her experience:"Words are not sufficient to express our gratitude for your generosity. When my husband was diagnosed with stage 4 cancer, our world was turned upside down. We suddenly found ourselves in a city far from home, family, and friends. Then the coronavirus hit. Finding Family House, with its clean, safe environment, was a true miracle and an answer to prayer. There is a special place in heaven for people like you who are willing to share their bounty with others."Thanks once again to #1 Cochran Subaru and Subaru of America for your generous gift. Family House is able to fulfill its mission, providing our guests with safe, comfortable, and affordable accommodations.
---
#1 Cochran's Gifts Delight Young Cancer Patients - Breanna S
The Leukemia & Lymphoma Society (LLS) was honored when #1 Cochran Subaru selected us as a partner for their inspiring "Subaru Loves to Care" summer program for the fourth year in a row. On July 15, General Sales Manager Jeff Gessler and LLS Patient Access Manager Angela Austin traveled to Children's Hospital of Pittsburgh of UPMC to personally deliver 80 blankets and 30 arts and crafts kits to make kids receiving treatment a little more comfortable. Cancer patients often have difficulty staying warm – a side effect that can be caused by their medication or the disease itself – making the blankets useful gifts even in the July heat. The arts and crafts kits contain crayons, markers, and more to help these young patients pass the time while in treatment. Along with these donations, Jeff brought personalized messages of hope for cancer patients written by #1 Cochran customers and employees during the month of June. LLS wishes to thank #1 Cochran Subaru for spreading love, hope, and warmth to pediatric cancer patients. We greatly appreciate #1 Cochran Subaru and Subaru of America's support in making this program possible.
---
Subaru loves our Pets - Kathy C
We at animal protectors of Allegheny Valley would like to thank Kevin James and the wonderful staff at Cochran Subaru, for sponsoring an event to raise money for our shelter. Kevin was one of the most caring individuals we have ever had the opportunity to work with. The support of the dealership was overwhelming. We received so many donations both monetary, food and supplies. They went above and beyond their commitment to show love to Our community and Shelter.
---
#1 Cochran Subaru donates to Merakey AVS - Sean U
Cochran Subaru 030301 Cochran Subaru in conjunction with the Pittsburgh area Subaru retailers and Subaru of America made a $1,000 donation presented to Merakey Allegheny Valley School (Merakey AVS) in Coraopolis, PA. The donation was presented to Dorothy Hunter Gordon, Merakey AVS' Executive Director, Development & Communications during the Pittsburgh Vintage Grand Prix Association's sponsorship night. Dorothy said she is pleased to have Cochran Subaru, the Pittsburgh area retailers, and Subaru of America partner with Merakey AVS, a non-profit organization which provides homes and a full range of services to individuals with all levels of intellectual and developmental disabilities (IDD). "The majority of the nearly 800 individuals we support are diagnosed with severe or profound IDD. In addition, most of the people we serve have multiple physical disabilities, extensive medical complications and may require supports for challenging behaviors. Merakey AVS operates facilities in nine Pennsylvania counties: Allegheny, Beaver, Bucks, Butler, Dauphin, Lebanon, Mercer, Montgomery, and Philadelphia. In the photo left to right: Merakey AVS Ambassador Tony, Merakey AVS Social Services Director Rita Christner, Merakey AVS Executive Director, Development & Communications Dorothy Hunter Gordon, Subaru of America Jim Hoffman, Merakey AVS Ambassador Liz, Merakey AVS Transportation Coordinator Ray Christner.
---
#1 Cochran Sends Love to Children's Hospital - Breanna S
#1 Cochran Subaru recently partnered with LLS's Western PA & WV Chapter to deliver warm blankets, messages of hope and craft kits to cancer patients at Children's Hospital of Pittsburgh of UPMC for the third straight year. General Sales Manager Jeff Gessler has joined LLS for each of those visits. This time, he was accompanied by Angela Austin from LLS and Hannah Williams from Children's Hospital. The group personally delivered the blankets, cards, and craft kits to families waiting for treatment. One of the first boys they met, Brady, was staring out the window – it was a beautiful, sunny day. Angela asked him what he was thinking about, and Brady said that it was his birthday. He was hoping that when he went home after his treatment, he'd feel strong enough to go outside and play in the sunshine. Jeff shook Brady's hand and said, "Man, you sure feel strong!" Everyone sang "Happy Birthday" as Jeff presented Brady with his blanket, craft kit, and message of hope. They opened the craft kit and played together until a nurse came in to talk to the family and the group had to step out. Because of #1 Cochran's donation, Jeff, and the others were there to provide Brady with a special birthday moment he wouldn't have had otherwise – a moment to remember. LLS is grateful to Jeff for being such a delight with all of the kids and to #1 Cochran Subaru for making this wonderful program possible! Many thanks to everyone at #1 Cochran and Children's Hospital for their help, and for supporting LLS's mission to cure blood cancers and improve the quality of life of patients and their families. Pictured: Daeshawn G. and Jeff Gessler
---
#1Cochran Provides Crucial Support to Family House - Lexi A
A generous donation from #1 Cochran, made possible by Subaru's Share The Love campaign, has provided support for the Family House mission to provide temporary, affordable housing to patients and families who travel to Pittsburgh for medical care. Each year, Family House provides a home away from home for more than 22,000 guests. #1 Cochran has been a great Family House partner in the community for years and is one of the lead sponsors of its annual Polo Match at Hartwood Acres. This donation helps Family House to keep its room rates low for guests and to ensure that Family House doors stay open to all those in need. Thank you, #1 Cochran and Subaru!
---
#1 Cochran Eases 1st Day of Chemo Jitters - Breanna S
Looking at Lauren's radiant smile, you'd never suspect that she was sick or guess how nervous she was for her first day of treatment at Children's Hospital of Pittsburgh of UPMC on July 10. Luckily, she happened to be there on a special day. #1 Cochran Subaru was delivering boxes overflowing with craft kits and cozy blankets especially for the small warriors who are fighting the biggest enemy of their young lives: cancer. Jeff Gessler, General Sales Manager at #1 Cochran, distributed 80 blankets and 10 arts and crafts kits to families awaiting treatment, with help from Children's Hospital staff members Erika and Denise. The Leukemia & Lymphoma Society (LLS) connected the dealership and hospital for the summer's "Subaru Loves to Care" program, a nationwide initiative from Subaru of America that focuses on community health issues. When the group met Lauren in the waiting room, Jeff wanted to make sure she had a bright spot on such a nerve-wracking occasion. He gave Lauren her own blanket in case she got cold (many patients do), one of the art kits to keep her hands and mind busy while she waited, and asked her to take a photo with him. LLS wishes to thank Jeff for taking time out of his busy schedule to come out for this delivery, and for making Lauren and many other kids feel so special that day. We greatly appreciate #1 Cochran Subaru and Subaru of America's support in making this program possible.
---
More Green with NWF - Joe M
I'm now driving my fourth Subaru, a 2017 Legacy. I started driving my first Subaru in 1985, before moving here. The most recent two have been leased from your dealership. I have always been highly satisfied with the quality and durability of these vehicles and the dealer servicing that maintained them. This story, though, is about my appreciation for your cooperation with the National Wildlife Federation to restore more habitat locally. I've been a member of NWF, and I've been fortunate to own a property that includes part of an undeveloped woodland stream. This proximity enabled me to have my property certified by NWF as a "wildlife habitat." In the twenty years I've lived here, I've seen a redwing hawk perched in a pine tree behind my house, wild turkeys and deer in my yard, and an occasional hummingbird -- along with a variety of birds, squirrels, racoons, woodchucks, rabbits, chipmunks and butterflies. Allnof this has made the deck across the back of my house my favorite place to be. Thank you for your effort to expand opportunities for increasing the opportunities for your customers to enjoy similar experiences. Joe Marchesani
---
Subaru Loves Learning Book Drive August 1 - 31 - Danielle S
Join us in our Subaru Loves Learning initiative during the month of August! We are partnering with the American Association for the Advancement of Science (AAAS) in donating science books to Gateway Middle School in the Gateway School District. All of the books that will be donated have been recognized by AAAS as some of the best science books in their field. Contact us to learn more information.
---
Subaru Loves the Earth - E-Waste Event - Danielle S
We would like to thank our customers for participating in our E Waste Recycling event during the month of April. With your help, we were able to prevent 21,107 lbs of carbon emissions from polluting the atmosphere. This is equivalent to saving 809 trees, 3,589 gallons of gasoline, 30,599 plastic bottles, and 140,747 aluminum cans. Thank you for helping strengthen the Subaru Love Promise!
---
April 1-30, 2015 E-Waste Recycling Event - Molly M
Throughout the month of April, we are hosting an E-Waste Recycling Event in our store to collect unwanted electronics. We've arranged to work with a company who will responsibly collect, re-purpose, and recycle your electronic waste. Help us protect our environment. Just show up with your E-Waste and we'll do the rest! The first 50 customers who contribute will receive a complimentary environmental badge of ownership. We will accept: LCD Monitors, Cell Phones, Laptops, Tablets, CRTs up to 40", Video Games/Consoles, Fax Machines, DVD/VCR Players, Printers, Computer Peripherals, Switches/Routers, Cords and Wires.
---
#1 Cochran Subaru Supports BikePGH's "Pedal Pittsburgh" - Ngani N
Pedal Pittsburgh is the region's largest bike ride and BikePGH's largest fundraiser. The event offers three routes of varying lengths that display some of Pittsburgh's breathtaking views, bike-friendly streets, and bike infrastructure. #1 Cochran Subaru has been a fantastic supporter of our event by promoting Pedal Pittsburgh on its social media pages and providing four Subaru's as SAG (support and gear) vehicles. Fatigued or injured riders depend on SAG vehicles, driven by volunteers and equipped with first aid kit, mechanics tools and a bike rack in case the rider needs to return to the Start/Finish area. By providing the use of the Subaru's #1 Cochran helped us ensure the safety of all Pedal Pittsburgh riders. Each year approximately 3,000 bicyclists from across the region participate in the event. The event provides an opportunity for cyclists of all ages and skill levels to take to the streets for a day of active, outdoor fun.
---
Pittsburgh Zoo & PPG Aquarium - Jaime S
Thanks to the #1 Cochran Zoobaru (Subaru), the Pittsburgh Zoo & PPG Aquarium has been able to reach thousands more students than we ever have before. As part of the longstanding partnership between #1 Cochran and the Zoo, a Subaru Forester vehicle was graciously leased free of charge for use in the Zoo's educational outreach program. Our school and community outreach programs are a wonderful opportunity to educate young children about the wonders of wildlife and the importance of respecting the world around us. The Forester, which was renamed the #1 Cochran Zoobaru, provides a reliable, safe, and comfortable way to transport the Zoo staff and classroom animals to schools, up to 100 miles away. By introducing children to live animals, the Zoobaru helps the Pittsburgh Zoo & PPG Aquarium foster a love for wildlife that will help shape them into responsible stewards of the planet.
---